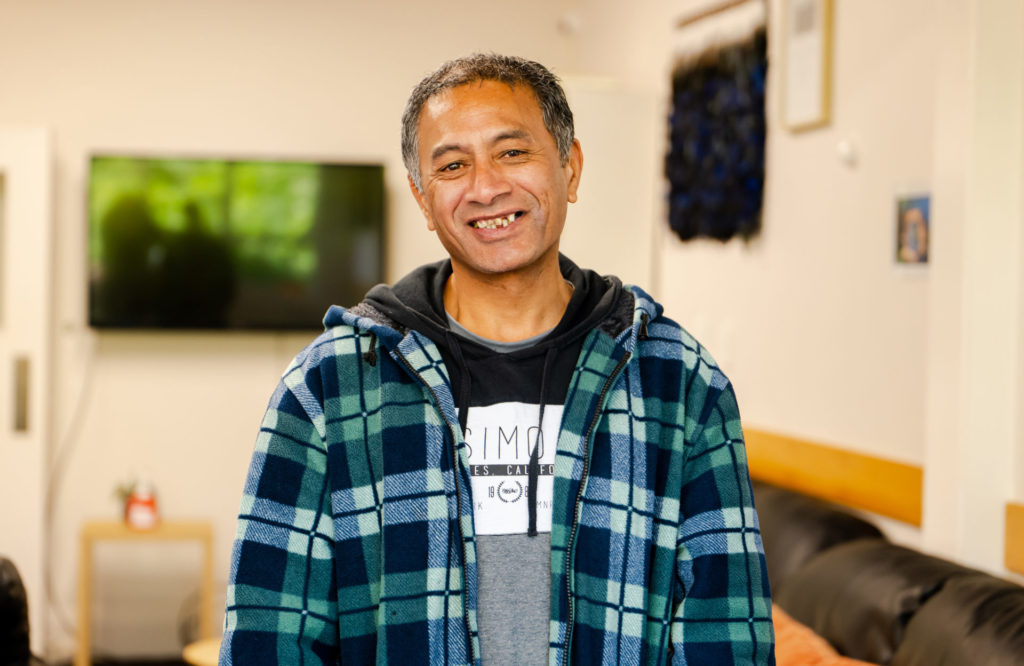 All of the bad experiences I've had led me here to The Mission's Te Pā Manawa, where I'm building the life I thought I could never have.

As a child I was abused, and I began running away from home. By the time I was 15, I had left school, was working, and living in a flat. At 24, my wife and I had four kids. I loved my kids very dearly, and I wanted them to have a better upbringing than I did, but something inside me was unsettled. I was struggling with drug and alcohol addictions, and was leaving home for periods of time. Eventually, my wife left me. That was the right decision for her and our children, but losing everything pushed me further downhill.

I became homeless, and for the next 25 years, I bounced between jobs, flats, boarding houses, pubs, and garages – or lived on the streets. My relationship with my family was always really important to me, and I've helped out however I could. I'm proud to have seen my kids grow into successful and happy adults, with families of their own. They've offered to take me in, but I've always felt I was just too far gone, and I didn't want to be in their way.

I ended up living in my car at Petone beach last year. That winter was really tough. Not only does the cold break you down, but the isolation gets to you. You're lonely, crammed in, with the windows fogged up and dripping condensation. You're stuck in your regrets, and you slip into depression. I clearly remember thinking "I can't believe it's come to this, living in my car at 54 years old. I want to be a better father and grandfather." As soon as I walked into Te Pā Manawa, I could feel that it was special. It was the first time I'd ever found a place like this, and I knew it was where I needed to be to take my first step out of homelessness. I had found the people I've needed my whole life.

Here, we are a family together. We speak openly with each other about our troubles – especially in our group meetings every morning. I also began counselling, to start dealing with the trauma that had deeply impacted me at a young age, and caused me to always run away from my loved ones. Even having opportunities like writing with a poetry teacher has been amazing. It's tapped into something I never knew was there, and has become an outlet for me to express myself. I'm really happy to have been offered a role as a kaitiaki (guardian) at Te Pā Maru now too!

There's always trauma in homelessness, and I believe that God has a purpose for me to use my story to help young people, and prevent them from taking the path I did.

I feel like I've survived the hardest times in my life. I know that everything I'm doing is setting the foundation for the rest of my life. Most of all, I can't wait for the day when my grandkids come to visit their grandfather in his own home, and for my kids to see that their dad is finally able to look after himself.
Paki's Poem: The Wellington City Mission
There's a place with care and comfort
Clothes, food and shelter
God bless the generous giver
Business, public, stranger

There's a place for the homeless and poor
Deprived, abandoned, oppressed
They can open many doors
They are our voice in our distress

There's a place with frontline workers
So humble your tortured soul
They will meet you where you're at
They will guide you where you can go

Thank you for the good intentions
For the care of our well-being
To know we had met as strangers
To feel we can leave as friends.