What We Do
Social Supermarket
If you need immediate or ongoing assistance with food support, our Social Supermarket can help. We understand the challenges of juggling bill payments, housing costs and being able to put food on the table for you and your whānau.
In a shift from the traditional City Mission food parcel model the Mission's Social Supermarket, a store located in Newtown, puts shopper experience and choice at its heart. Instead of collecting a pre-selected food parcel, you will be able to choose your own grocery items from a wide selection of food and essentials in a normal supermarket environment.
The Social Supermarket is open and free to anyone across the Wellington region in need of some extra help. This includes those currently being supported by, or new to The Mission, and those being supported or referred by other social service agencies.
You will be hosted and supported during your shop by our store manager, with social workers available to assist.
---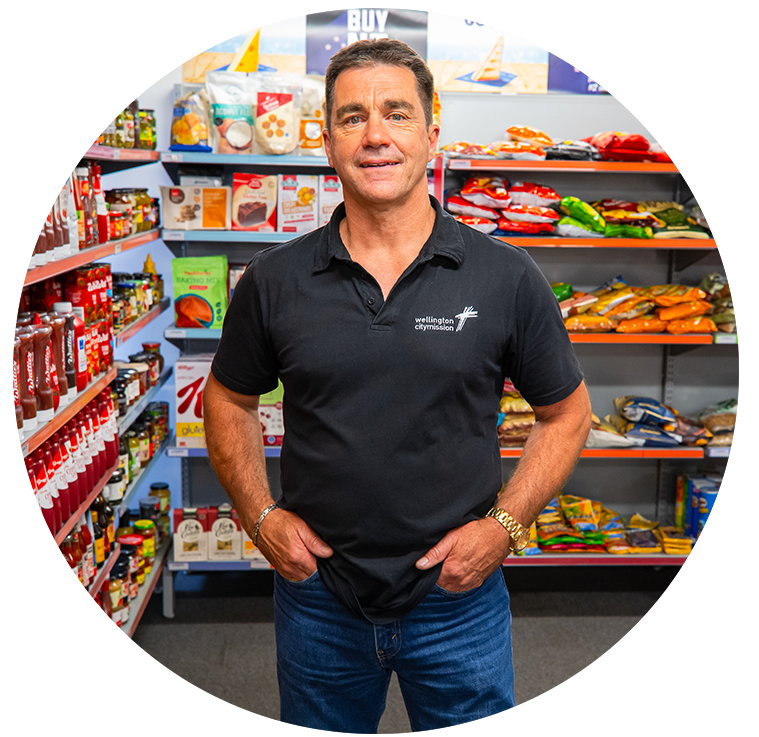 "The idea of the Social Supermarket is that there is dignity in choice and people can have a sense of normality in what they do and not feel isolated or stigmatised by their circumstances."

Murray Edridge, Wellington City Missioner
Social Supermarket Customers
If you want to shop at the Social Supermarket you can book an appointment time by visiting The Mission's main reception at 19 Gordon Place, Newtown. Or if you'd like to make an enquiry about visiting the Social Supermarket, please email: enquiries@wgtncitymission.org.nz.
Social Supermarket open hours:
Monday – Friday: 9:30am – 4:15pm (The last appointment is scheduled at 3.45pm)
If you are a social service agency Please contact
Selena Mills – Social Supermarket Floor Manager
027 212 2155
selena@wgtncitymission.org.nz
Sarah Meynell – Procurement & Key Relationships Manager
027 220 0919
sarah.meynell@wgtncitymission.org.nz
To Donate food
Our supermarket shelves are stocked by the donations of food and goods we receive from generous Wellingtonians. You can donate to The Mission's Social Supermarket by dropping food products to The Mission's main reception. To learn more about the types of donated goods we need please click here: https://bit.ly/2NnQrO2
To make a financial donation to our Social supermarket
Every day here at The Mission we meet with people in Wellington who find themselves in hard circumstances and need our help. We simply couldn't offer them support without your generosity. You can donate to The Mission's Social Supermarket by clicking here: https://bit.ly/38OzAvs or contact us by phone to make a donation: 04 245 0845.
More info:
– Seven Sharp Interview: https://bit.ly/2OFD2Sb
– Stuff Article: https://bit.ly/3cGfKUk
– Newshub Article: https://bit.ly/3tp8dQv
– RNZ Article: https://bit.ly/395BYhF
---