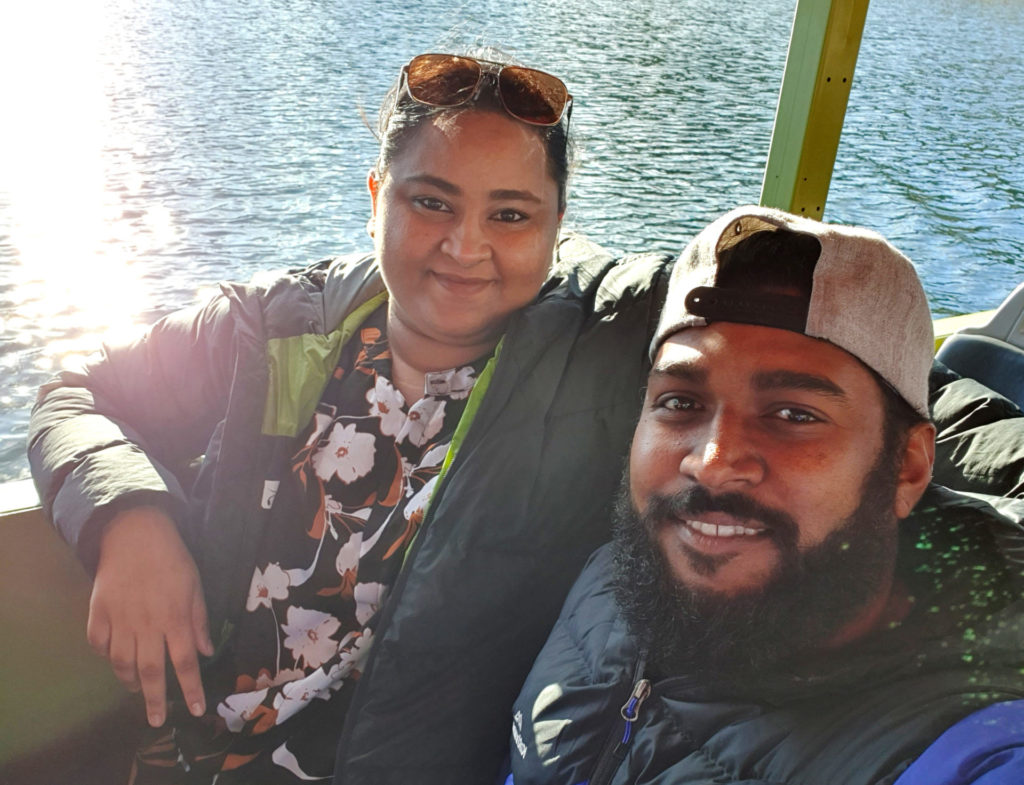 A few years ago, all my husband and I wanted was to live normal lives. But there was no way we could. I was going through renal failure, so I couldn't work, and I was doing dialysis in my emergency accommodation. My husband, being born in Fiji, could only be here on a visitor's visa, and was not permitted to work at all. Unfortunately, his family was opposing our application for his residency because they disapproved of our marriage.
It all left us in a very hard situation with our money. After rent and power, we had just $20 a week to spend on everything we needed. Going to the supermarket was so stressful, and we'd end up buying cheap unhealthy food to get us to the next day. We also owed money on loans that I had taken out before I got sick. I had never thought ahead to consider "What if something changed?", so when it did we were completely stuck. We were barely coping, and it seemed impossible to get into a better situation. It was the hardest and loneliest time in our lives.
We felt embarrassed that we had got to the point where we needed to ask for help with food, so we were a bit fearful when we took those first steps into The Mission. But when we met with one of their Financial Mentors she was so down to earth, and we felt welcome. The Mission started helping us with everyday items we couldn't afford, like food, and personal care and cleaning products. It gave us one less thing to worry about as we were trying to get out of the hole we were in – and it really made our $20 spending budget go a lot further.
We were still really worried but after a couple of sessions with our Financial Mentor, we felt way more confident that there were better times ahead. I realised I had never learnt how to properly manage my budget, loans, and interest. Before, it was just a huge mess in my head – it was always just money comes in and then the bills go out. We learnt so much about prioritising money to go on high-interest loans, and it was a great feeling being able to start paying off our debt.
As my health improved, I was able to take on some part-time work. It was a crazy exhausting time, but it had to be done. After work, I would get home and go straight on dialysis for 6 hours, and then go back to work at 5am. My husband helped out as much as he could, but his visa restrictions were so frustrating because he couldn't work, and often had to return to Fiji. With everything going on, especially times when I was so sick I couldn't move, it was really reassuring knowing The Mission was there for us. We could start paying back our debts, planning for the future, and even started saving money for the fees to get my husband's working visa.
After about six months, we were confident to move on from The Mission's support. We took all of our new knowledge, and carried it on in our daily lives. I was eventually able to get back to full-time work as a community support worker at an Intellectual Disability Home. And, after a long journey, my husband became a New Zealand resident and started work as a painter. We're debt-free, and are saving towards owning our own home one day.
We feel so well-off compared to where we were before, so two years ago we started putting away part of our pay every week to make annual donations of toys and food to The Mission at Christmas time. It's nice to think that we're able to help take a bit of pressure off people and families, so they can have a special time. When we dropped off our donations last Christmas, it was so cool seeing how the Social Supermarket gives shoppers points to choose exactly what they need. I know it's hard to be picky when you can't afford food, but it gives people a chance to start making their own decisions. Someone can feel like they're able to do a shop like everyone else, so they have more dignity going in.
My husband and I know how hard it can be to stand up and ask for help when you're feeling alone. When there are so many obstacles in your way, having someone who will support you and guide you is huge. It makes you feel like you actually do matter, and that you can have a better life.