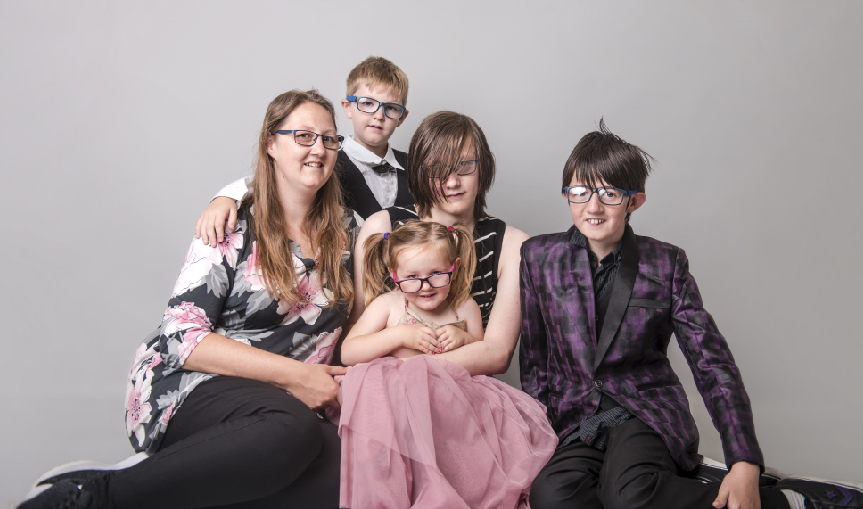 I'm a single parent to four kids, and our family has some significant challenges. My eldest is deafblind, my 14-year-old is one of a handful of kids in New Zealand with AUTS2 Syndrome, and my two youngest are autistic with ADHD and severe anxiety.
The complicated nature of their conditions means that I've been struggling for years to get the support they need – particularly with their health and education. We don't fit neatly into any boxes, so for as long as I can remember I've been bounced from place to place, and coming up against brick walls. I honestly felt like I was going insane because I was constantly repeating myself, and we just couldn't find any help.
As soon as I had Ruth, my Mission Social Worker by my side, things started changing. We began the Strengthening Families process, which brought all of the support agencies, schools and government departments together in one room for the first time. It finally became clear that our family really was slipping through the cracks and we could do something about it.
Unfortunately, just before Christmas last year, our home became extremely unsafe, and we had to leave immediately. We ended up in Emergency Housing, where the five of us lived in a two-bedroom motel for seven months. I was constantly chasing up with housing providers, but there wasn't anything they could do. I felt like the worst parent in the world because I couldn't give my kids the one thing I'm supposed to give them, a home.
I felt like a failure, and at my roughest times, I had to consider if my kids would be better off being cared for by the state.
But through it all, Ruth walked alongside me. Having her there when I needed someone to share the mental load, she'd say "You're doing a great job, and it will get better!" this helped me stop that constant self-doubt, and take a breath.
I could think more clearly and have a little hope, and that gave me the boost I needed to keep going. The Mission started offering support in other areas too. Budget-wise, we don't have a lot to live on week to week, so having access to a place like the Social Supermarket takes so much pressure off, as there have been weeks where I wouldn't have been able to feed my kids without it.
And because we've got serious food allergies and textural sensitivities, being able to choose our own food means everything gets used.
We're also very limited in options for rewarding activities like sports, so being able to access special grants (like Kete of Aroha, which I know is sponsored by a Mission donor), means my kids can take part in activities like Riding for Disabled. On top of that, being given things like passes to Zealandia and the zoo, allows us to get out as a family and feel normal.
At Christmas, I was even invited to shop at the free Christmas Toy Store, where I could pick out gifts like board games and puzzles to do together in the motel. Being able to provide my kids some treats was a big deal, because at that time, not only would they have just lost their home, their neighbourhood, and friends, they would have had no Christmas too. As much as it is about getting to spend time together, that's hard to understand as a four or eight-year-old.
Kids shouldn't have to face adult problems, they should just be able to feel some of the magic of Christmas time, and they definitely did.
Thankfully, earlier this year we found a private rental, so although it costs well over half of our weekly income, we have a home where we can lay down our roots and feel like we belong to a community. We still have a lot of challenges ahead of us so we don't know what's going to happen, but I do know that we can find a solution to any problem. And importantly, I know that whatever happens my kids aren't going to go without food. With Christmas coming up, it's a huge relief knowing that The Mission is going to help make sure we can celebrate as a family too.
I do have moments where I can't believe I'm so low in life that I have to rely on charity to get by, but having dignity, respect, and choice is massive, and it does make a difference.
I would say to everyone who supports The Mission that the most important thing you can know is that you really are saving people's lives. When the world looks so bleak for so many, it's incredibly powerful to be able to reach out and get help because people have shared their kindness!